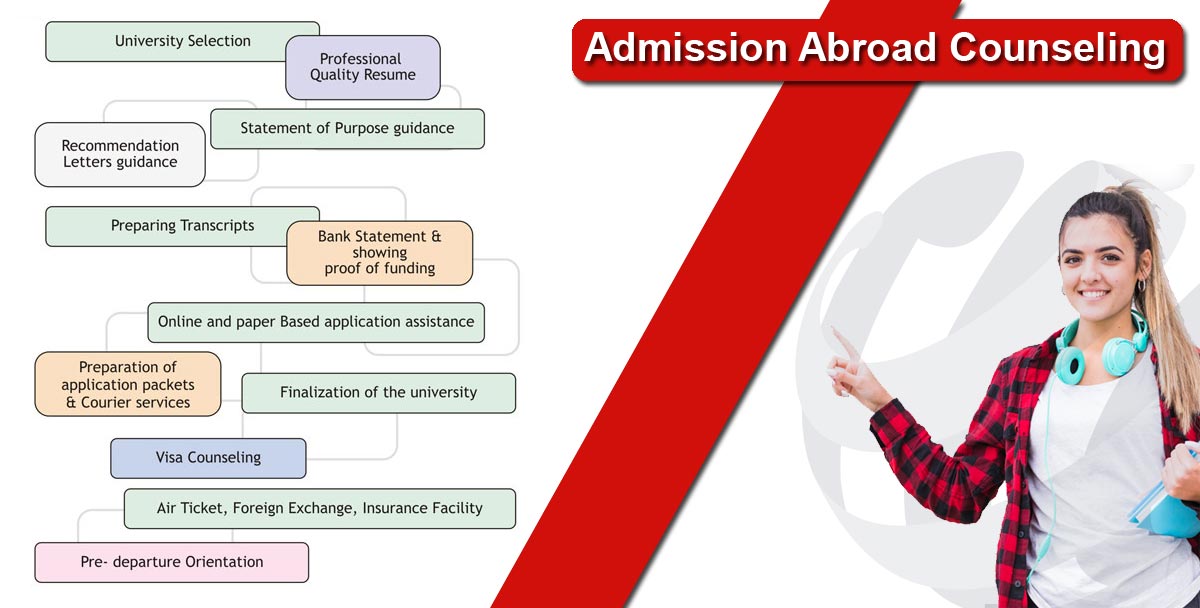 After taking GRE / GMAT / SAT / IELTS / TOEFL iBT exams the process of admission begin, which is very important and crucial as well. Students need proper guidance to make timely applications, securing excellent admits with scholarships & to get VISA as well. At meridian we offer one stop solution for all your admission abroad related queries.
Country courses and University selection services

A student is required to choose four universities at the time of filling the form for GRE and TOEFLiBT exam where your score would be reported for free. In order to select suitable universities to apply to, you need to go through the prospectuses and broachers of a number of universities and survey the courses they offer. We select these universities on the basis of students academic performance, financial background, the specialization a student wants, the geographical location student prefer and the ranking of the university. Students will also have free access to our library of the latest prospectuses of the top universities in America.
In the entire application process, selection of the right university is most difficult process. The factor to be considered in the selection of university are overall quality of the university, reputation, quality of the department where you are applying, research activity in your area of the interest, breadth of the courses offered in your area of interest, faculty, placement records, location, history, availability of Ph.D. program, Number of students, funding costs, admission standards, student support system etc.
A student is advised to choose universities that are high ranked in your field as you can get with you academic records, GRE score etc. and that will offer you admission with a good chance of funding. With our extensive experience in the field and our updated information about American universities, we are well equipped to choose the optimum university for a student to apply to. We help you to choose universities where financial assistance is expected to be available. Our information comes from our excellent knowledge based archive of our previous students who have secured admission to various American universities.Short listing of the Universities done the following basis
• Financial Background of the student.
• Suitability of the program according to student's academic advancement plan.
• Availability of the desired Major and area of Specialization offered by the university.
• Availability of Financial assistance like Teaching assistantship, Research assistantship.
• Students score in GRE/ TOEFL/SAT/IELTS/GMAT exams.
• Preferred and desired term of joining (fall / spring / summer) according to student.
• Application deadline
• Post study visa and Job opportunities.
Documentation services

• Assistance in preparing Statement of Purpose and Professional Quality Resume
• Assisistance in preparing SOP
SOP is the admission committee window for a student. The Statement of Purpose (SOP) is one of the most important documents that admission committee will use to evaluate students orientation and suitability for higher studies. SOP basically represents the image of the students in front of admission committee. The SOP is a statement of students academic and career goals and background. It should convincingly show that student is a suitable and adequately prepared candidate for higher studies in United States. Having a good SOP can often compensate for an ordinary academic record and a modest GRE score, making it possible for even an average student to get admission to a good university and obtain financial assistance. At meridian Studies we review a student's sop and assist them to formulate their thoughts and organize them better. To prepare better SOP we provide sample SOP's for reference. We also help students to prepare professional quality resume.
• Preparing Recommendation Letters
Recommendation letters are also one of the most crucial document that admission committee require. Usually 2 or 3 recommendation letters highlight academic potential and research related strengths, skills and preparation relevant to the courses a student is applying for. Preferably, they should therefore be written by student's teachers whom he is known for a long time, in whose subjects a student done well or showed great interests and achievements.
A student can also take a recommendation letter by the employers who closely worked with student in an organization and who can make a proper evaluation of student's candidature for higher studies in United States. If you are working in a relevant field, recommendation letters from your immediate supervisors in the organization can be of more importance.
Since, the recommendations letters are confidential and are not supposed to be discussed with student. So a student's concern should be whether the recommender would write a positive recommendation for him. If yes, approach him / her for a recommendation. A student can assist his recommender by providing them a draft for approval along with a copy of his resume listing important activities and events that you have participated in, positions of leadership and any significant achievements they could mention in their letter.
Most college professors and even bosses ask students to give them a draft of the recommendation letter. We help you to write at least 3 such drafts based on your academic achievements, skills, strengths, and goals, which your teachers/employers can then simply review and edit and sign. We will guide and help our students in drafting recommendation letters.
• Preparing Transcripts

Every university you apply to will require official college transcripts. These are mark lists in a format required by American universities and colleges. We help and guide you prepare semester wise transcripts for you on the basis of standard formats. These can be signed and sealed by your college or University officials. Transcripts can be obtained from the University or college attended by the student. Sometimes instead of university of university transcripts student can even send attested Xerox copies of the mark list sealed and signed by the university registrar.It is advisable to get 12-16 copies of transcripts during the preparation period to save time.
• Bank Statement
Every university apart from student's academic competence needs proof of necessary funding to continue and support education in America. Hence as a part of students application form, student will be asked to fill in the financial certification included in the application form. This needs to be supported by a bank letter of certification, to further validate your claims of having the required resources for US Education. In some cases, universities may ask you for a notarized affidavit from your sponsor.
For each university bank statement has to be an original, showing adequate funds to cover at least a year's tuition and living expenses. An Original Affidavit of Support should be on Rs.20 Non Judicial Stamp Paper (duly notarized) is also required for each university a student is applying for.
We at Meridian studies analyze student's financial capability and difficulties for application to different universities. We provide necessary format of financial documentations and assist a student to prepare them.
• Preparation of application packets

Every university has different requirements. If you want your application to be processed rapidly you have to act accordingly. We therefore make sure that your applications are sent correctly filled, along with all necessary documents. Thus universities can confirm your admission in as little time as possible. And you would not waste valuable time and money corresponding with the university about submitting some additional documents. We have tied up with the respected courier who will send your packets at confessional rates. We also have a tie up with a bank which will give you demand draft.
Online and paper Based application assistance

There are two ways to apply to US University, One is to apply online and other is sending the filled application form. A student is required to adopt only one method of applying not the both. We advise our students to apply online, because it is quicker than other modes of application. To apply online an International Credit Card is must. A majority of the universities prefer online applications because it is quicker and an easier way for them to enter you in their database. In fact, some universities may also have a reduced application fee, as compared to the fee charged for processing a downloadable application, to encourage you to file the application online. We at Meridian Studies assist students to apply online. Also we help them to arrange the required documents.
Visa Counseling services

The final step is VISA. Every student has to apply for and secure a visa to enter the country in which they plan to study. It is important to have sound preparation for successfully getting through VISA process.
We at meridian studies evaluate every student's case individually and guide them how best they can present themselves in front of VISA officer. We provide specific guidelines for VISA documents to be gathered. We will give you personnel appointments to check your Visa Documentation. We also help you to prepare answers for the probable questions that Visa authorities may ask. This is followed up by an exhaustive simulated mock interview to help you prepare for the real visa interview. A precise Visa Documentation Checklist and Guide can be obtained from Meridian Studies.

Pre- departure Orientation
As our director already studied in United States, we have an age of knowing the US specific in all the aspects. We also inform you about international air travel, foreign exchange regulation, living conditions and social life in America. We also give you detailed information about the city you will be going to. We also put you in touch with other students going to your university. This will help you to arrange joining flights dates and shared accommodation in America.
Test preparation we offer